Cecil Foster's Independence (2014)
Desmond has returned to the island because the prime minister has asked those who went abroad to help rebuild the nation, now that it has gained its independence.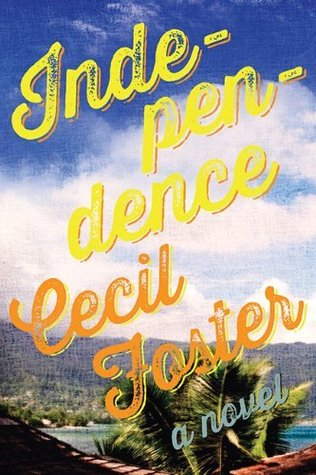 Harper Collins Publishers, 2014
Cecil Foster's experience is not unlike Desmond's, but Independence is rooted in the story of a boy who has known only the island as his home.
As his own Africa, as his grandmother's friend explains describes it:
"'See me, I quite happy and contented to spend my last few remaining years here in this the land of my birth. I love it here. This is my own Africa."
The grandmothers are of vital importance in this story.
They have an enviable degree of independence:
"Mrs. Smith declared that Mrs. King and Grandmother did not know how lucky they were to be both the women and the men in their own homes and not have to depend on anybody for anything or beg anybody to do this or that to make their own house look good."
But the grandmothers also have an increased level of responsibility.
Thirteen-year-old Christopher's mother is one of those who went abroad, but one of those who has not returned. Nor has Mrs. King's daughter returned to raise her daughter, Stephanie.
Sure, "there is now a place on the island for all the talents we keep sending abroad" but many have not returned and Christopher's talents are just beginning to reveal themselves; he is still preparing for his own independence.
In particular, he has a talent for cricket, which not only means something on the field, but beyond.
"This is fun and games, but it is also part of our nation building. This is part of the bigger picture now we are an independent people. This is part of the bigger picture now we are an independent people. All of these things are part of the spirit we will be exhibiting tomorrow. […] practicing a culture that aims for excellence itself."
This is one means by which Christopher can gain independence while participating in something as grand as nation-building.
"From the way the men eye me on the field, and how they are starting to talk with me, I can feel I am more than coming into my own."
Thematically, however, the idea of independence echoes throughout the narrative.
Take the broader question of the responsibility that absent fathers and mothers have, to their offspring and their nation, which is raised in more than one family.
Consider the question of workers' reliance on the seasonal employment of sugar cane growers and overseas employers.
Or contemplate the solidityof community ties and support mechanisms and the fluidity of dependency as these systems change.
(The economic networks between women are particularly fascinating, not only between the grandmothers but the wider community of women.)
And, yet, as pervasive as these networks of independence and interdependence are, Cecil Foster's novel contains a microcosmic view as well: "Christophier Diego belongs to Stephanie Arland and the two o' them were destined to be one".
Therein lies the heart of this story, which settles onto the page like a long, easy spooling of breath.
The storyteller's voice is confident and resonant, and not only the use of language but the sensory detail are essential in story-building.
"I like the fresh smell of the sawdust. Its fragrance always reminds me of something new. It reminds me of the start of sugar cane season, when the smell of fresh bagasse from the factory is first on the air. It is like the good times when I go mashing trash with the boys from the area, searching among the leaves in the sugar cane fields for any canes left behind after harvesting. We would suck so much cane, our bellies would be too full for dinner."
The atmosphere, the thematic parallels and some synchronous shifts make an orchestra out of a quiet story of a boy's broadening experience. And although there are gaps in Christopher's understanding (appropriate to his age), he is a reflective and dynamic character, so it is a pleasure to dwell in the moments of his becoming.
"In these changing times, every last person on this island has to step out on his or her own and make a life."
If the story is like the long slow release of breath held, it ends with the anticipation of a bigger breath.
Christopher holds his future in his hands, and there is no doubt that he will breathe life into it after the reader turns the final page of Independence.
Original Article - http://www.buriedinprint.com/?p=12231&utm_source=dlvr.it&utm_medium=twitter&utm_campaign=Feed%3A+BuriedInPrint+%28Buried+In+Print%29